Flower Essences for Animals and People
The Animal Relief Formula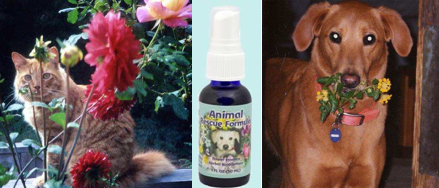 The Animal Relief Formula (originally called the Animal Rescue Formula) was created to help with the healing of current and past traumatic stress of animals: those currently living in rescue and shelter facilities, in foster homes, and those who have been adopted into loving, permanent homes but are either exhibiting signs of trauma from their past or have experienced a traumatic situation since adoption, and animals who have experienced trauma of any kind--whether in the context of a rescue situation or not.

The formula is also effective for preventive measures to reduce or avoid trauma, such as medical visits, changes in home, location, family structure, etc.
It can also be used in place of Five Flower Formula/Rescue Remedy for short term upsets and emergencies. The same five flowers in Recue Remedy are in this formula, along with 11 additional essences.

Save