Paw Prints in The Stars: Journal for Mourning a Pet
Description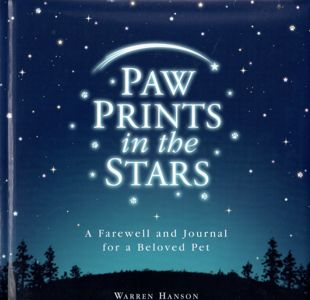 Written in the voice of an animal who has crossed over, the tone of this journal for mourning a pet by Warren Hanson is comforting and peaceful. The text is an affirming tribute to the profound and enduring love shared between many animals and humans. It celebrates the lessons and love of our relationships--a meaningful and powerful part of our healing when someone we love has died.

The exquisite illustrations of angels and animals in the stars, the luxuriously padded cover, an attached satin ribbon bookmark with a heart shaped placeholder for attaching a pet's tag, and a place for favorite photos and personal notations make this book a treasured keepsake for anyone grieving the loss of a pet.

The words, the visual beauty and even the soft padded touch of this book are comforting. Similar to The Next Place by the same author, this is not a pet loss book of concepts and strategies to heal (though those books are quite helpful in a different way), but rather one which brings immediate, tender solace in memorializing and honoring beloved animals who have died.

Some of my favorite passages from the book:
"I will always know you loved me. But it's time for me to go. I was your soulmate, your companion, and your friend. We meant more to one another than the world will ever know. So when you find that you are missing me, just listen to your heart, and you will know that I am never very far. Each time you stand beneath the heavens, and look up to face the dark, you will see my shining paw prints in the stars."


Luxuriously Padded Hardcover book, full color illustrations, 32 pages
This book is appropriate for both children and adults who are grieving the loss of a pet.
A comforting and meaningful book for anyone grieving the loss of an animal.
~ Ideal for gift giving ~

You may also enjoy browsing our other books, CDs, prayer flags and memorial candles designed to support those mourning a pet.




Save
Recently Viewed Products