Pet Loss Grief Support
This is an extensive list of resources. We are providing this menu to help you navigate to exactly the type of help and support you need.
Pet Loss Web Sites
There are many web sites available to help us understand and acknowledge our loss and pay tribute to our beloved animals. We've listed what we've experienced as some of the most helpful, and also those which honor specific species or breeds. We realize there are dozens of others sites. If you know of one that you believe we really should include here, email and let us know. We'd like to thank the people behind these sites for all the love and work which is invested in creating and maintaining such projects for the benefit of animal grievers everywhere.
Pet Portraits and Jewelry
Planting Memorial Trees
& Hanging Prayer Flags in Memory of our Animals
Pet memorial Tree Planting ~ www.treegivers.com
Have a young tree planted in the state of your choice in honor of your animal. Receive an official certificate of planting and sympathy letter and card.
Prayer Flags~ purchase here
HIGHLY RECOMMENDED!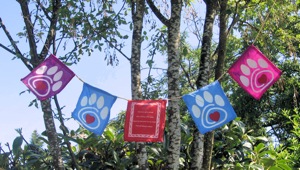 These beautiful prayer flags have attractive paw prints on four flags and a simple yet comforting quote on the fifth middle flag: "You have gone ahead and nothing is the same, leaving paw prints in my heart that will always remain." Text from the web site: We want to stay connected to that wonderful soul that has gone ahead of us. Let these flags be that connection.Tibetans believe the prayers of these flags become a permanent part of the universe as the images fade from exposure to the elements and the wind blows through them. Just as life moves on and is replaced by new life, our own healing can begin, our hearts can mend and find room to love another four legged friend. When we send our feelings on the wind we trust nature to turn our memories from sadness to gratitude for having loved and been loved so unconditionally.
Prayer Support and Prayer Healing Requests
Specifically for Animals:
For Animals and People:
Urns, Ash Memorials, Caskets, Grave Markers
Save
Save