Humpback Whale Prayer Flag-Mama & Calf (1 flag)
Description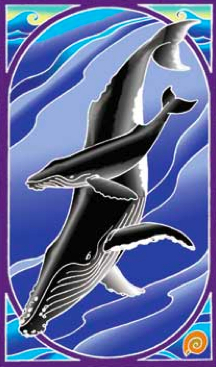 REDUCED FROM $12.95 until inventory is depleted.

A humpback mother and calf in a peaceful moment. Exquisite batik art work, hand painted on rayon with bright permanent dyes. Made in Bali in small, family run shops.
For whale lovers this image will bring the gentle, loving energy of humpback mothers and calves into your home or garden. For those who have swum with whales it will bring back the memories of magical and peaceful moments of being with the mamas and babies in the water and the incredible deep trust and love they exude as they approach us. Enjoy this stunning piece of art for its visual beauty and as a focus for prayer.

A tradition of prayer flags is to hang them with conscious intention for blessings and prayers to reach all those in need--in this case for the whales and dolphins. Often called "prayers on the wind" or "blessings on the wind," it is believed that as they wave in the the wind, prayer flags lift up and carry our thoughts for peace, healing, and compassion around the world. Every time we gaze at these flags, it is good practice to send more prayerful intention for the needs of the whales and dolphins--perhaps for protection, safety, freedom, health, joy, peace and love.

Prayer flags are more than beautiful art. They can be a powerful part of our spiritual practice. As we pray for others, it brings the opportunity for our own hearts to open more fully, to become more compassionate, calm and peaceful. A peaceful world for the whales begins with us.

13" wide by 20" tall. A pocket across the top allows for inside display on a dowel, or outside on a garden flag holder. Inside, it can also easily be tacked or taped to a wall.

Please help the whales.
Recently Viewed Products