In Memory of a Pet: Pet Loss Memorial Candle
Base price for variant
$29.95
Description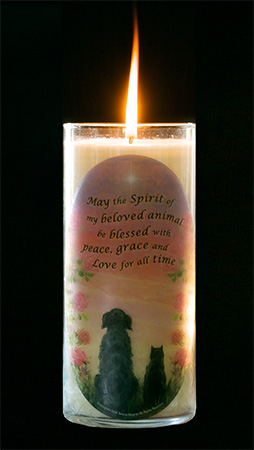 TEMPORARILY OUT OF STOCK
Candles have long symbolized the light of hope, of love, of healing and of connection with our loved ones in Spirit. These candles were created to honor the souls of animals who have left the earth, and to comfort the hearts of all those who love and grieve them. Lighting candles often provides a focus of solace and comfort for us, supporting our hearts' vigil in memory of a pet.
Tall and elegant at 7-1/2 inches high by 3-3/16 inches in diameter, the candles are a substantial size that burn for about 100 hours. They are made in the US with soy wax that burns cleanly. The candles are scent free so that those who are sensitive to oils or fragrance can enjoy their beauty without allergic reaction.
A small card is included with each candle which reads:
May the lighting of this candle lovingly connect you with the Spirit of your animal loved one, and may the grief in your heart be blessed with gentle healing.
When sent as a gift, a complimentary card personalized with your message is also included.
You may also wish to have it sent with the beautiful organza gift bag which can serve as a lovely gift presentation, and also as a keepsake bag for tags, collars, fur and sympathy cards.
This product can serve two purposes in memory of a pet: first as a burning candle then as a vase for flowers. When the candle is completely burned, the glass can be easily washed and used as a vase to hold flowers, perhaps to be placed next to a framed photo of your animal, or on an altar. It can also be refilled with a new 3-inch diamater candle.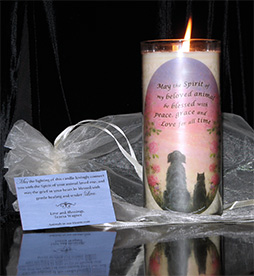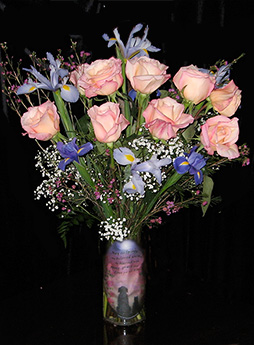 After the candle burns down, a new pillar candle can be placed in the glass, or, the container can be used as a flower vase.
Please note that shipping charges for candles are higher than other items due to heavy weight and glass, requiring special packaging for safe delivery. Shipping Weight: 4 pounds.
For a limited time each candle order includes a free copy of the audio book Legacies of Love, A Gentle Guide to Healing from the Loss of Your Animal Loved One by Teresa Wagner.


The Design
The design of the candle label originated from an oil painting commissioned for the cover of the Legacies of Love audio book. The painting is titled Mattie and Katie, in memory of Matilda Marie Hoefler, The Best Dog in the Whole Wide World, and Katie Katrina Wagner, Teresa's deeply beloved cat for 17 blessed years. Mattie and KK, another cat of Teresa's, were the animal models for the painting.

The Candles, the Wax and the Process
These candles could be produced at a fraction of the cost had glass and paraffin wax candles been purchased from China. Instead, our glass vases are purchased from a U.S. manufacturer, and are quality tested using ASTM (American Society for Testing and Materials) industry standards. The candles are poured by a local company, Soy Divine Candles, in Monterey, California.

Why soy wax instead of paraffin or beeswax? Animals in our Hearts wants these candles to be safe for the users and the environment, and to not take wax away from hardworking bees. Beeswax is made from the labor of bees and belongs to the bees, not us.

Paraffin candles contain toxins and carcinogens. Paraffin starts out as leftover sludge from petroleum production. It's then filtered, bleached and put into consumer products. Paraffin candles emit soot that can blacken your walls, ceilings and furniture, contaminate ventilation duct work in your home, and add carcinogens to the air you breathe.

Soy is a renewable resource, does not harm the environment, and contains no toxins or no carcinogens. Soy candles burn cleaner and produce about 90% less soot than paraffin candles. They reduce the risk of allergy & asthma attacks. Soy candles also burn more slowly than paraffin candles, lasting about 30% longer.

After the poured candles are delivered to Animals in our Hearts, the labels are lovingly placed on each candle by hand. Before packaging for delivery to a specific individual, Teresa holds each candle to her heart and asks for a blessing . . . that when the candle is burned, the recipient will feel the presence of their animal loved one's spirit near by, and that angels lovingly stand behind the person, holding their energy with grace and gently bringing tender solace, comfort and peace to their heart.

Other grief support resources can be found here.


Save
Save
Save
Save
Recently Viewed Products